The Code Council remains committed to assisting code departments as they navigate and overcome the challenges facing them during the pandemic. To that end, we have prepared and conducted two surveys to determine how departments have responded in the interim. What virtual needs still exist? What strategies have worked best? What additional resources could help? These survey results inform our efforts to identify best practices and advocate for needed resources.
Follow Up Survey
The Code Council conducted a follow up survey of building and fire prevention departments from August 11 through September 3, 2020 with more than 800 respondents from all 50 U.S. states and the District of Columbia.  Respondents came from states as well as local jurisdictions that range in size from 700 people to 4 million.  Read our initial snapshot on the results of the follow-up survey here, published September 17, 2020.
On December 17, 2020 we published a report, "Follow-up Survey: Building Safety and COVID-19 Analysis of code department operations in the United States during the pandemic," an in-depth analysis and findings based on the final results of our August - September survey.
April Survey
The International Code Council surveyed how building and public safety communities are adapting to the unique challenges the coronavirus pandemic presents. Thank you to those who shared your experiences. Read our initial snapshot survey findings published on April 2, 2020.
Click on image below to download an infographic summarizing these results.
On July 1, 2020 we published a report, "Building Safety and COVID-19: Analysis of Code Compliance in the United States During the Pandemic," an in-depth analysis and findings based on the final results of our March - April survey.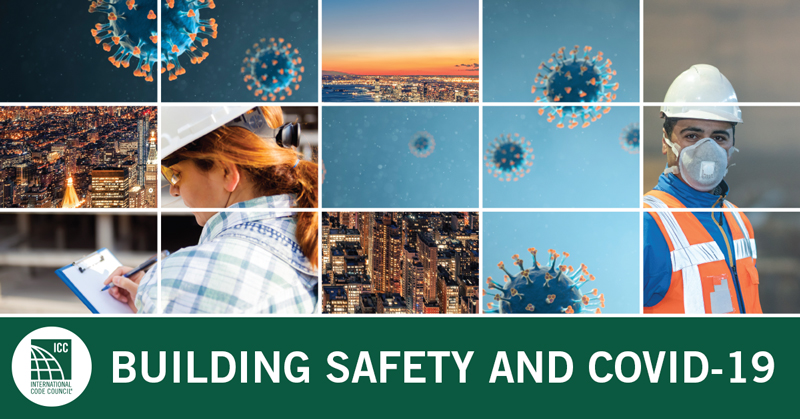 Document Series
A "Maintaining Building Safety During the COVID-19 Pandemic" document series has been written to outline important considerations and a set of potential solutions for code departments related to permitting, plan review, inspections and the codes.
Case Studies
Here are examples of Code Council chapters tracking department statuses in their area.