Building a tradition of winning
While national football powerhouses continue to win games on the gridiron, Texas State Technical College (TSTC) in Waco is practicing consistency by winning its own contests with hard hats and hammers.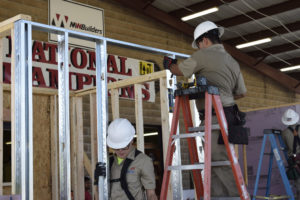 Texas State Technical College has won state championships in SkillsUSA TeamWorks and competed at the national level representing Texas every year since 2013. The achievements come not only with patience and dedication from students but also from the faculty that help them. The TeamWorks competition involves students building a small structure that includes carpentry, electricity, masonry and plumbing.
Teams must interpret plans given to them at an orientation held before the build.
"Now that we have been to nationals, we know what the skills are," said Michael Carrillo, a TSTC alumnus and instructor in the Building Construction Technology program. "We dedicate days to skills training. That has accelerated the program and the students."
SkillsUSA is a professional organization teaching technical, academic and employability skills that help college and high school students pursue successful careers. Members build these skills through student-led team meetings, contests, leadership conferences and other activities.
Carrillo said one factor in TSTC's success has been offering students the opportunity to earn certification from the International Code Council (ICC) Technical Training Program using the International Residential Code (IRC). The students take a Building Codes and Inspections course offered in the spring semester to work toward the certification. Texas State Technical College is the first college in Texas to award ICC certification.
Carrillo said having students learn about the IRC enables them to find answers to problems themselves. He said judges at the national SkillsUSA contest not only look at building techniques but also how well students know building codes.
Preparation for the 2018 SkillsUSA National Leadership and Skills Conference to be held in late June in Louisville, Ky., began in mid-May with a simulation build between TSTC and Belton High School's state-winning TeamWorks teams. The two-day build took place in Belton, located between Austin and Waco, with a second scrimmage planned for mid-June at TSTC. Students are using the 2018 International Building Code for their simulation builds and will use it for the national contest.
"We share the same passion for construction," Carrillo said.
And, passion and understanding for the field is what Carrillo wants to see in his present and future students.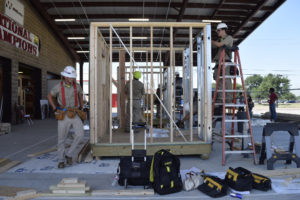 He attributes the Building Construction Technology's success in SkillsUSA to recruiting students from beyond the Waco area. In fact, this fall two students from this year's Waxahachie High School's SkillsUSA team will enroll at TSTC. And, three of this year's Belton High School TeamWorks students plan to travel to Waco to study. Students from the Dallas area and South Texas will also enroll in the program.
"The schools are starting to see how much we invest in SkillsUSA," Carrillo said.
Two members of this year's TSTC TeamWorks team competing nationally are Belton High School alumni.
Joseph Hermann of Belton did SkillsUSA construction in high school and was on the 2017 national championship TeamWorks group and part of two state championship teams. Hermann said he chose to participate in SkillsUSA while in high school to stay out of trouble. Masonry has become his strength in team construction.
Andres Zapata was on the high school's 2017 state and national TeamWorks championship teams. He was involved in SkillsUSA construction most of his high school career. His favorite parts of construction are learning building codes and plumbing.
Before enrolling at TSTC, Zapata did an internship at Cooper & Bright Plumbing in Harker Heights, where he worked alongside employees on projects ranging from troubleshooting water leaks to pipe installation.
Attending TSTC was always in his post-high school goals, he said. Zapata said it felt like home with so many Belton students attending various technical programs at TSTC. He is a 2017 recipient of the Mike Rowe WORKS Foundation's Work Ethic Scholarship.
"It has helped me out to pursue my dream," said Zapata, 20.
Hermann's twin brother, David, was on a Belton High School team that finished second in the state and is also studying Building Construction Technology at TSTC. David Hermann was a member of TSTC's second TeamWorks group that competed at SkillsUSA's state competition.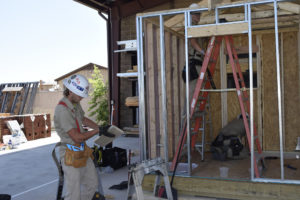 Zach Henderson, a 2016 Belton TeamWorks member, is in his third semester in the Building Construction Technology program. He was on TSTC's second TeamWorks group this year. Henderson said he came to TSTC because of encouragement from Carrillo and his Belton classmates.
"I knew I wanted to go to school," he said. "I told myself it was something I had to do."
Craig Sullivan, a construction technology teacher at Belton High School who taught the students, said he was proud of their competing on the college level.
"I think they will do very well, if not win it all again," Sullivan said. "They have a superior understanding of how the contest is run and judged and what is expected. They have all been cross-trained in all the skills. TSTC is taking them to the next level and polishing their craft."
Sullivan inspires his students not only with state and national SkillsUSA TeamWorks banners they see daily, but also with words of wisdom hanging elsewhere in his construction lab.
"Students that have gone through our program here at Belton have bought into our motto," he said. "I keep it posted in our classroom. 'Excellence is not an act, but a habit. We are what we repeatedly do.' That motto has served us well."