Caribbean Roadshow highlights partnerships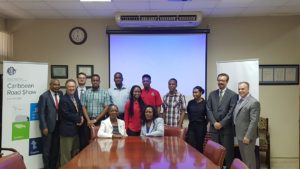 Standards organization ASTM International hosted several events from June 4–8 in Jamaica, Trinidad and Tobago, and Guyana as part of its Caribbean Roadshow, which included outreach, training and education focused on the growing use of ASTM standards and International Code Council codes.
"This partnership involves unprecedented outreach and networking aimed at finding solutions to sustainable construction challenges," said James Olshefsky, director of external relations for ASTM International.
Mark Johnson, executive vice president and director of business development for the Code Council, joined Olshefsky, ASTM International board member R. Christopher Mathis and other ASTM staff in a number of industry workshops, student forums and meetings with high-profile groups to highlight long-standing Caribbean partnerships and focus on how codes and standards are the foundation for quality and safety in construction projects.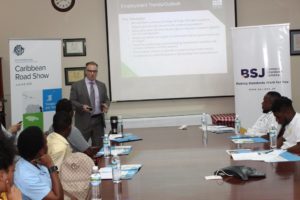 The team visited with students from the University of Technology—Jamaica at the Bureau of Standards Jamaica and spoke on employment trends of code professionals during a session on June 5 at the Kingston head office in Jamaica. The next day, the team attended sessions with stakeholders in the Port of Spain, Trinidad and Tobago, and visited Georgetown, Guyana, on June 7–8.
"Our engagement in the Caribbean is critical to help protect the health, safety and welfare of these communities and make them more resilient to natural disasters," Johnson said. "ICC welcomed the opportunity provided by ASTM to be part of this very important event and share our expertise."
Click here to see more photos.