A home builder's perspective
During the 2018 National Association of Home Builders (NAHB) International Builders' Show in Orlando, Fla., the International Code Council sat down with Jon Sukonik to discuss the home building industry today. Jon is co-owner of The Sukonik Building Companies in Western Montgomery County, Pa., a NAHB Board Member and an active member of the NAHB Construction Liability Committee and the Codes and Standards Committee.
---
Q:  How did you get started as a home builder?
A: When we were growing up, my brother Neil and I both worked for our father's company in the summers. After graduating from the University of Arizona, I renovated a commercial building that my dad and his partners purchased for their new offices. In 1987, my brother and I partnered on our first construction project, and we formed our own building company in 1989.  Over the years, we've experienced both the good times and the bad and know cyclical nature of this business. Since the 1980s, my brother and I have built over 1,000 houses in Western Montgomery County. I'm proud to say that my son has joined our company, so we are now a third-generation building family.
Q: What would you say are some of the challenges that home builders are facing today?
A: On the national level, codes, governmental regulations, labor and financing are probably the biggest issues. On the local level, builders are also dealing with land availability and zoning issues.
Q: Are these concerns that you've had to deal with in Pennsylvania?
A: Fortunately for us, the land where we're building is relatively available – not always affordable, but available. Zoning issues are a concern, and I've worked with municipalities to ensure that the land cost is reasonable, and our product comes in at a price point that our buyers can afford.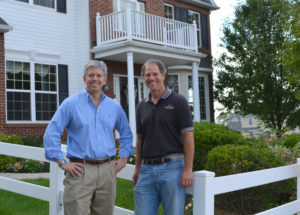 Q: You're very involved with NAHB. Why did you decide to join the Board?
A: In 2013 I became the local president of our chapter in Bucks and Montgomery Counties, and I joined the national association Board as well at that point. As I started getting more involved with the subcommittee and committee levels, especially for codes and construction liability, it made sense to stay on as a director. I've had the opportunity to be part of the process on the national level, and, I'm glad I've done it.
Q: Building safety is the focal point of our mission here at the Code Council. What is the importance of building safety to you?
A: I agree that safety and a well-built home are important. As a builder, I want my customers to feel that their decision to make the purchase of a new home is one that will put them in an environment that they will be, first and foremost, safe. I don't want them to worry about their house falling apart. I want my customers to feel confident that their house has the best rating in terms of fire safety — if something happens, they can get out.
The overall finished product needs to be built to a standard that is beyond that of houses that were built years ago. Although you cannot really put a price tag on the importance of safety, the affordability of the home is also something that we need to be concerned about. We as builders walk a fine line between safety and affordability.
Q: NAHB has actively engaged in the development of the residential building code, and the Code Council counts on the support of NAHB to advocate for the adoption of the building code in jurisdictions across the U.S. From your perspective, what benefits have you seen either locally or nationally from the implementation of a uniform, regularly-updated building code?
A: In Pennsylvania where I live, they just went through modifications to the code adoption process. For the first time in 2004, Pennsylvania went to a uniform construction code where all the municipalities within the commonwealth have to build to the same standard. It used to be that the codes were different from municipality to municipality, and if you had the same house being built in two neighboring municipalities, you built them to two different standards. The requirements were different and having the uniform code within the state really made life easier, not just for the builder, but also for the customer because they knew what they were getting. The uniform construction code was a necessary change.
Q: The Code Council and NAHB both have efforts in place to attract young people into the building and construction industry. As a home builder, how has the deficit in skilled workers affected your business and community? How can we encourage more people to join the building trades?
A: Fortunately, in Pennsylvania the workforce shortage hasn't been as predominant as it has been in other parts of the country. But, we have seen a movement in Pennsylvania to increase the number of technical schools involved in trade programs. We've worked with ICC and our state's building association to help bring more young people into the physical trades associated with the building industry.
Home building is a manufacturing industry that cannot be automated. It's not like the auto industry where machines are putting the car together on an assembly line and people oversee the process. Houses are built in the real world, by real people, using real materials. Although we do used automated tools and construction techniques, the house itself cannot be put together that way. We need skilled labor. We are trying to reach young people and let them know that using your hands is not a bad thing. We've gotten away from the physical trades, and I'd love to see them come back. You can make a good living at it. The construction field is a great field for young people looking for a lifelong career.
Q: What is some advice you would give to young people interested in getting into the building industry?
A: Young people can be involved in our industry in many ways, both in the field and in an office. There are great opportunities to work as a carpenter, plumber, electrician, roofer or a machine operator. There are also professional opportunities as architects, engineers and land planners.
Building homes is a very rewarding experience. Watching neighborhoods get built, from moving dirt to families moving in to finished homes – this is an experience you're not going to get anywhere else. You are able to see the whole process 'start to finish' that you won't find in most industries. Also, I love going back to homes that I built thirty years ago to witness the maturity of the trees, the families and the neighborhood atmosphere. It's just great to see.
Q: What blogs, authors or other resources do you regularly read to keep up to date on new advancements in your field?
A: I read a lot of industry publications such as Builder Magazine, Professional Builder and the Journal of Light Construction. I also get email newsletters from ICC, NAHB and our local Pennsylvania Builders Association. These keep you up to speed on changes to the industry and issues that have popped up as well as solutions. You can learn about new technical advancements and see what is happening across the country on a broader spectrum.
Q: The final question is one we ask our ICC Pulse Podcast guests. If you could choose a favorite building, maybe due to style of architecture, type of materials used, fun story or connection you have to the building, what would it be and why?
A: At the risk of sounding cliché or corny, my favorite building is the last one that I built. It represents the latest family to which we were able to build a relationship. It's another family that has moved in and will have a lifetime of enjoyment of living in the house raising their family.