Women in construction: Laura Rouse-DeVore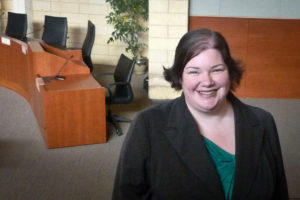 There has never been a better time to be a woman in construction. Not only are increased job openings readily available for women, but also the average compensation for construction jobs is better and more equal compared to many other industries. Across all industries and markets, women in the United States earn an average of 81.1 percent of what their male counterparts make. However, in the construction industry, the gender pay gap is much lower. The Bureau of Labor Statistics reports that women in construction earn an average of 95.7 percent of what men make — an 18-percent pay bump compared to other industries.
Laura Rouse-DeVore, MPA, CCEO, senior plans examiner/inspector for the city of Highland Park in Illinois, is a perfect example of the growing role of professional women in the architecture, engineering and construction industries who are identifying construction as their passion and making it their career. She is a past president of both the American Association of Code Enforcement (AACE) and the Illinois Association of Code Enforcement (IACE); she served as chairperson of the AACE national public awareness campaign regarding the "Importance of Code Enforcement"; and wrote and secured a gubernatorial proclamation honoring code officials throughout Illinois on behalf of IACE — the first time that ever had been done. For her professional abilities and numerous contributions to the code enforcement profession, the International Code Council presented Rouse-DeVore with its 2013 Gerald H. Jones Code Official of the Year Award —the first female recipient of this prestigious award and also the first recipient from the state of Illinois.
As a certified zoning inspector and property maintenance and housing inspector with the Code Council and an AACE-certified code enforcement officer, Rouse-DeVore is currently bringing her experience and expertise to the International Property Maintenance/Zoning Code Committee (IPMC-ZC) for the 2018 and 2021 code development cycles. She recently took time to sit down with the Building Safety Journal and answer some questions on code enforcement and where she sees the profession heading in the future.
Building Safety Journal: What was the path to your career — how and why did you pursue a profession in codes enforcement?
Laura Rouse-DeVore: My career path started at Ball State University as a double major in urban planning and religious studies. As part of that program, I had the privilege of having an internship in my hometown of Fishers, Ind., which was a very fast-growing community and suburb of Indianapolis at the time. As an intern, I got to perform some technical studies, which ended up leading to policy adjustments for commercial sewer usage. I also functioned as a permit tech for the department, which gave me experience interacting with the contractors, builders and residents of the community while giving me a greater scope and understanding of the permit management processes. It positioned me to be able to step back and look at what my interests, passions and niches were and how that would drive my career goals and fit into the scope of a municipal community development department.
BSJ: From your perspective, are there special challenges or distinctions in being a woman in this industry? Do you think there are special skills women can bring to the table?
Rouse-DeVore: I think there are definitely special challenges for women in the code enforcement profession. My biggest challenges in this career path have been balancing home, family and work life — which I think is always a concern for the working woman — and achieving credibility and authority within the development community. Whether it's simply my perception or the reality, I do feel that I have had to work harder throughout my career to demonstrate myself, my code knowledge and my experience to the builders, contractors and residents of the communities I have worked in. Education is very important to me, so I have worked hard to support my career with a strong educational background to elevate my career to a higher level of professionalism. This focus on professionalism has helped me to establish that necessary credibility and authority within these roles and communities. I do think that women are able to bring a special set of skills, which makes them highly effective in code professions. Whether it is in advanced communication skills, being able to establish trust relationships or a different perspective when it relates to public safety, I believe that women are highly effective and bring so much to the table for the code administration industry.
BSJ: How have you overcome unforeseen challenges throughout your career?
Rouse-DeVore: Well, certainly, in any career, unforeseen challenges will exist. The most important thing I have learned throughout my career is how to persevere, be flexible and to adjust so that the setback doesn't become a roadblock. Maya Angelou said, "If you don't like something, change it. If you can't change it, change your attitude." I think this quote speaks to the humility with which we must operate so that we are able to accept and address those challenges and still push forward.
BSJ: How have these experiences and challenges helped you to achieve your goals?
Rouse-DeVore: Addressing these unforeseen challenges has made me a better code official. Each challenge gives us the opportunity to learn about ourselves and our industry. I have found that I am able to use these experiences and challenges that I encounter in my career to empower within the context of the next challenge I may face. Experience encountered leads to enlightenment empowered.
BSJ: What are your passions about what you do? What do you see as potential challenges?
Rouse-DeVore: My passions in this industry are in civic engagement and public awareness and education. In code professions there is so much opportunity to educate the residents of the community, educate our peers and co-workers, educate our elected officials, and others. There are numerous misconceptions held within any community about building permits, building and municipal code application and interpretation, zoning codes, land use, etc. This is where I see so much opportunity in the industry — in finding solutions to the question of how best to simplify and communicate the complexities of codes, zoning or permit processes in a way that is efficient and makes sense for the community. This is the essence of customer service in what we do and this is the part of our roles as code administrators and professionals that shape the community's notions of municipal government.
BSJ: What is one piece of advice that you would give to those starting out in the building safety industry?
Rouse-DeVore: I think that it is critically important to understand that there are "grey areas" in code application that are going to call for some tough decision-making and interpretation. In those moments it is important to stay focused on the intent of the code. Our most important role is to protect the life, safety and well-being of the community and residents that we serve. Let that mission, above all else, guide you through those challenging decisions and interpretations.
BSJ: What are some ways we can begin connecting with a younger generation of code officials and introduce them to code enforcement and the building safety industry?
Rouse-DeVore: The best way I see to connect with a younger generation of code officials is to continue to elevate the professionalism of the profession and focus on the showcasing the various industry career paths as professional career paths. I think it is crucial to understand the needs and characteristics of the younger generations and advocate for employment opportunities with flexibility to respond to those needs and characteristics.
I believe it is also imperative to begin connecting with the younger generations before they are even out of school. Providing opportunities for childhood exposure, contests and experiences within the building safety industry to connect with future generations is another way to promote the professionalism of the industry careers. I feel there is a gap in the representation of building safety industry careers as it relates to resources and discussion for school age and childhood generations. I used to show my own children "Bob the Builder" cartoons because it was the closest representation of my job to them. I think that there are definitely opportunities to reach out to these future generations to increase awareness and promote the career paths in a different way.
BSJ: What three things do you need to be successful in this job?
Rouse-DeVore: I think that the three most important things you need to be successful in this job are integrity, a technical aptitude and acumen, and interpersonal skills.
BSJ: What blogs, authors or other resources do you regularly read to keep up to date on new advancements in your field?
Rouse-DeVore: Certainly, the International Code Council is the main channel of resources that I regularly read to stay up on industry developments. I am also engaged and active in several ICC chapters and the education resources, conferences and events offered through the Code Council and the various chapters I belong to. In addition, I am an active member of the American Planning Association and keep up with the International City/County Management Association from a standpoint of guiding my own leadership development and staying up on policy development and innovations.
BSJ: The final question is one we ask for our Building Safety Journal audience. If someone wrote a biography about you, what do you think the title would be, and why?
Rouse-DeVore: I would hope that my biography title would be "Inspired". This is what I strive for every day — a greater understanding of how to inspire myself to greater levels of excellence in what I do and looking for ways to inspire others toward strength, dreams, accomplishment and success.