Remote automated fire- and smoke-damper testing
This article presents the rationale for amending NFPA 80, Standard for Fire Doors and Other Opening Protectives,[1] and NFPA 105, Standard for Smoke Door Assemblies and Other Opening Protectives,[2] to allow remote testing of actuated dampers if the proper controls are employed. The amendments have been accepted and will appear in the 2019 editions of the standards.
Periodic testing of fire and smoke dampers and associated controls is required by codes to ensure the devices will function as designed in the case of an event. Testing of actuated dampers can be performed by removing power at a local junction box or opening the contacts of a local relay. The actuator springs the damper closed (or open) and is then driven to its operational position by reapplying power. NFPA 80 and NFPA 105 detail testing requirements. At present they both require visual verification of life safety damper operation.
The technology for remote function verification using automation has existed for years and has been field tested. However, it hasn't been employed meeting testing requirements of dampers installed per International Building Code[3] (IBC) Chapter 7. Chapter 9 of the IBC, engineered smoke-control systems, requires position indication and override capability and modern technology has been applied to them. Still, visual observation of their operation is required when periodically tested.
Automated remote self-testing is accepted for fire alarm and smoke control systems certified to UL 864.[4] However, actuated dampers certified to the UL 555 family of standards[5] continue to require visual inspection.
Periodic testing and expense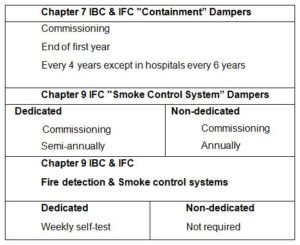 Table 1 shows the time periods for testing actuated dampers and fire-alarm and smoke-control central equipment.[6]
Remote testing can have a significant cost avoidance
The installed cost of a network module testing system or actuator designed for testing will cost an estimated $400 per damper.
The outside labor cost to test a damper varies with the number being tested and the specific market labor rate. The building's age and occupancy are very important. For example, if asbestos is present, protective containment is necessary when opening the ceiling. Without trying to detail here, it can be assumed that inspection and testing of either a smoke or a combination fire and smoke damper will cost a minimum of $50 unless special circumstances drive the cost up.
Since dampers installed per Chapter 7 only need to be tested every four years, the payback period is too long to be economically viable. ($400/$50 = 8 tests or 32 years.) and building owners will select manual testing.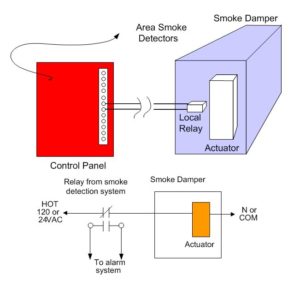 Dampers installed per IBC Chapter 9 are another matter altogether. Override and position indication are required for smoke-control system dampers (See Figure 1). All of the controls required for remote testing are installed per code. Software allowing manual control from the fire fighter's smoke control panel also exists. The programming for remote and possibly automatic testing is low-cost. If the damper is dedicated to smoke control, two tests a year are required, as shown in Table 1. Then, the savings is estimated to be $100 a year. Since the additional cost of the relay and input module are required in any event and programming cost is low, the payback occurs during year two at the most. (Visual inspection is still required during conformance testing and at the end of year one.)
Smoke and combination fire and smoke damper basics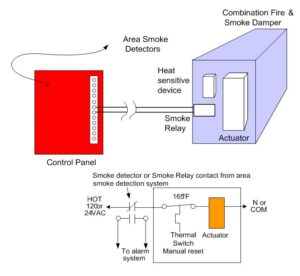 Figure 1 shows a typical smoke-control damper and its wiring, while Figure 2 shows a typical combination fire and smoke control damper and its typical wiring. For a more complete description of the types of fire and smoke dampers, see the three-part series "Basic Fire and Smoke Dampers" in the International Code Council Building Safety Journal. [7]
At present testing these dampers most commonly requires going to the ductwork in the protected wall and opening a junction box to remove power. After the damper springs closed power is restored and the damper is observed to reopen.
Testing systems
There are a number of types of testing systems and variations in functions. Connections can be hardwired or networked. The central control could be a dedicated microprocessor-based panel, an alarm and smoke-control panel, or a UL 864 UUKL Listed Building Automation System.4 A damper moving to the open or closed position upon command and a return to the operational state is the proof required.
This could be shown by a multiplicity of methods: sound, light through the damper blades, actuator drive time with current readings, actuator software switches, actuator potentiometers, or even cameras and LEDs inside the damper assembly. Most likely, using today's existing products, actuator auxiliary switches, damper blade switches, or magnetic switches will be used.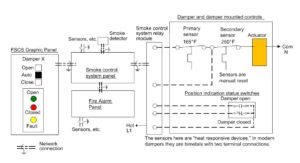 It is important to know how controls will operate to judge the reliability of remote testing. There is definite confusion and lack of understanding in some circles about how remote testing will operate. Figure 3 shows the typical architecture of a Chapter 9 required smoke-control system. A re-openable combination fire and smoke damper is shown.
Damper operation is tested when a system goes through its weekly self-test. The relay module has two contacts with outputs to the primary and secondary bimetal sensors (heat-responsive devices in UL's terminology). The switches go to two inputs.
A spring-closed damper is initially open and the position-indication-status open switch is made. The program notes this. When the damper is tested, power is removed, and the actuator springs the damper closed; the damper-open switch breaks, and within 15 to 30 seconds, the closed switch makes. Then, power is restored to the actuator, and it drives the damper open. The switches change state again indicating that the damper is again open.
Switches making and breaking at the proper times verifies operation. If there are any problems with the operation, an exception report is issued for maintenance. Thus, remote testing is performed for dampers in IBC Chapter 9 engineered smoke control systems. However, visual inspection still is required. This drives cost up significantly.
A testing system for dampers required by IBC Chapter 7 would have the same switches and network modules. The software is nearly the same except that, rather than weekly, testing will be done when manually (or automatically programmed) ordered.
The goal is 100 percent reliability. While no electromechanical system is perfect, the switch indication when the actuator closes and opens the damper will identify more than 99 percent of problems.
Other factors
Testing can be performed more often
With remote capability, dampers can be tested more frequently at almost no cost. Some European countries require much more frequent testing than does the United States. Sweden is the toughest, with testing required every 48 hours.
Inaccessible dampers can be tested
Space constraints are a frequent problem, and it often is most difficult to access a damper for testing. This applies to unactuated curtain fire dampers also. The methods shown here could be used if inaccessible dampers were actuated and required to be heavier duty actuated dampers instead of curtain dampers.
If remote testing were codified, then two testing methods exist. The remote testing as described above using the network and controls is one. A local testing method also is possible. A local panel with an open/close/auto switch and position indication lights allows testing. The assembly would be located in an accessible but secured place. Many facilities have the switches and position indication so they can verify damper status during normal operations. A keyed switch, momentary switch or enclosure over the switch and indicator lights can ensure the switch is not inadvertently operated by an unqualified person.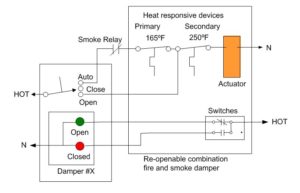 See Figure 4 for a typical method. If neither light is on, then a fault condition exists and maintenance is needed. Once a damper has achieved an open or closed position, there is little that can happen to create a fault condition. Damper components and actuators do not spontaneously fail. Such switches are available from damper manufacturers today.
Overall safety is increased
In addition to making code-required testing most likely and facilitating more frequent damper testing, several other safety issues are addressed. The need to breach ceiling membranes is reduced. Healthcare facilities in particular are concerned as breaches potentially expose patients and staff to infectious diseases or asbestos. Hazard to maintenance technicians is reduced when they are not climbing on ladders to reach difficult to access areas. Promotion of remote testing by the damper manufacturers will increase awareness of periodic testing requirements and more dampers in more buildings will be tested manually.
Modern technology will be used
Facility and building maintenance technicians are comfortable with today's sophisticated digital technologies. Use of computer programs to generate reports is commonplace. Cloud reliability ensures the trustworthiness of data collection and metadata production. Wireless systems will be offered by some manufacturers.
Reliability is increased
Reliability is the most important issue. Given the present situation in which little testing is performed, automated and remote testing offer an increase in overall reliability.
When testing is performed only every four years, something can happen in between verification tests. Shifting ducts and consequent jamming open of a damper are possible, particularly in seismically active regions. Actuators are now UL tested for long-term holding failures and sticking open is considered impossible. Motor failures will be caught as the damper springs closed and there will be a no heat or no cool call leading to investigation. The biggest potential (and in some identified cases, actual) problem is technicians fastening a damper open and failing to replace a defective actuator.
Hospitals require testing only every six years. At first, this appears backward because many patients often are unable to evacuate on their own power and more frequent testing should be performed. At code hearings in the past, evidence was presented showing almost 100% reliability of the life-safety dampers. The Joint Commission,8 which oversees hospitals, has enforced damper and sprinkler testing in hospitals and they are among the safest of occupancies.
UL thoroughly tests dampers and actuators, including the switches. In the 1970s actuators had to cycle 250 times in the UL 555S test. Today's standard requires they be subjected to a six-month long-term holding test, cycled 20,000 times (and 100,000 10° movements if modulating.) The damper and actuator are subjected to a fire test, hose stream test, salt spray test, and drop test. The actuator and damper together are heated to 250°F or (350°F) for a half-hour and also subjected to the same elevated temperature for 15 minutes at 2,400 fpm and must close and open properly. Then they are turned around and must repeat the test with airflow in the opposite direction. Finally, there is an air leakage test. The damper blade and actuator auxiliary switches are both checked for operation and electrical continuity.
Testing actually will be performed
Perhaps the number one and overriding advantage of remote testing is the ease of performing testing and the awareness of the requirement. At present, few commercial buildings observe the requirements. Most owners are not aware they are responsible. The fire-protection divisions of fire departments are underfunded and, therefore, not well-staffed; they can enforce only so much in so many buildings. Sprinklers are the first line of defense against fire, and most efforts go into seeing they are functioning. While it should be, smoke control is not a high-priority item on periodic inspections.
Failure to acceptance test or commission properly
Anecdotal reports from testing services indicate problems are found during periodic inspections that should have been caught during acceptance testing. Most are with curtain dampers which cannot be remote-tested. The reports on multi-blade damper types are few. Some concerns could be reduced by placing notices near each life-safety damper with basic information on requirements. Presence of the damper, notice to avoid any obstruction, illegality of using an air moving duct as a raceway, and last date inspected and tested are important. Acceptance testing and commissioning should have caught the types of problems that are reported.
Are auxiliary switches reliable?
Whether actuator, damper blade, or magnetic switches, the make and break points are not always precise enough to catch a 1- or 2-degree open gap when a damper should be closed. And neither are most technicians. Some external switches on certain older actuators shift slightly with repeated operations.
Modern direct-coupled actuator clamps cold-weld to damper shafts and slipping is near impossible when tightened. Once actuator switches are set and adjusted if necessary during field acceptance, they are not going to shift.
Figure 5 shows a Ruskin9 blade switch still functioning after 30 years. At a request for this article, Greenheck Fan Co.10 went through the last 15 years of data and found only two reported switch failures. Belimo11 ISO 9001 records for actuator switch failures in the last five years gave two failures—this out of 500,000 switch models sold in the United States.
The overall quality of switches is unquestioned. The main point here is that while a few dampers may not close 100% and provide Class 1 leakage rate, they still close 98% and prevent most smoke and fire from passing. They would potentially still provide a Class IV leakage rate. Those that are not tested and sometimes fastened open provide no protection at all.
Conclusion
Remote testing is clearly more reliable than no testing. Frequency can be increased at little cost. Inaccessible dampers can be tested. Awareness of code-required testing will increase and the number of dampers visually inspected and tested in commercial buildings will increase. Use of proven technology will provide cost avoidance and increase safety.
Remote automated testing will be able to report an estimated 99% of problems leading to very high reliability. When testing is not performed, as is the norm in commercial buildings, damper failures will occur. This is a particular problem in older buildings where fires are more likely to occur.
---
[1] NFPA 80 Standard for Fire Doors and Other Opening Protectives, 2016 Edition, National Fire Protection Association, 1 Batterymarch Park, Quincy, MA 02169-7471
[2] NFPA 105 Standard for the Installation of Smoke Door Assemblies and Other Opening Protectives, 2016 Edition, ibid.
[3] International Building Code, 2018, International Code Council, Inc. (ICC), Country Club Hills, IL 60478-5795. www.iccsafe.com
[4] UL Standard for Safety for Control Units and Accessories for Fire Alarm Systems, UL 864 Tenth Edition, Dated December 1, 2014. Underwriters Laboratories, Northbrook IL. (UUKL smoke control requirements are contained within UL 864.)
[5] UL 555 Standard for Safety for Fire Dampers, Edition 7, 2006, Updated Oct 21, 2016. UL 555C, UL Standard for Safety for Ceiling Dampers, Edition 4, Dec 16, 2014. UL 555S Standard for Safety for Smoke Dampers, 5th Edition, Feb 13, 2014, op. cit.
[6] Chart taken from Codes and Damper Testing, Larry Felker, ASHRAE Journal, October 2014. www.ashrae.org. Data taken from International Fire Code (IFC) 2018, ICC, op.cit.
7 Building Safety Journal, Dec 2016, Feb 2017, April 2017. International Code Council, Inc. (ICC), Country Club Hills, IL 60478-5795. https://www.iccsafe.org/content/building-safety-journal/ Member login required.
8 https://www.jointcommission.org/ The Joint Commission accredits 21,000 health care organizations in the US.
9 Ruskin Company, www.ruskin.com
10 Greenheck Fan Corporation, www.greenheck.com Personal communication.
11 Company records examined by author. BELIMO Automation AG, Hinwil, Switzerland and Belimo Americas, Danbury, CT. www.belimo.us