The Assessment Center works with Sunil Selvanayagam on an almost daily basis. He's our resident technical expert; when things on our computer go crazy, he comes in and saves the day. We're not just talking about your everyday "turn the power button off and on again" help either: Sunil is a true partner in being sure we're up and running so we can help our candidates. We were ecstatic to learn that Sunil recently became a U.S. Citizen and wanted to hear more of his story. We sat down with Sunil to get to know more about his journey to ICC and citizenship.
Sunil grew up in Malaysia in the city of Kuala Lumpur. The education system in Malaysia meant that at 15 years old, every student took an exam that would put them on the track to their future career. The flexibility many Americans take for granted to explore different areas in college wasn't available for Sunil. When his mother married a U.S. Veteran and moved to Kentucky, Sunil jumped at the chance to move with his mom and start a journey in the United States. The move from the urban Kuala Lumpur to rural Kentucky was a big change. Sunil puts it this way: "I went from being able to take a cab or train anywhere I wanted to go to having to DRIVE just to pick up a Coke."
Since Sunil's Malaysian education didn't transfer over, he completed the GED and began to search for colleges. His search brought him to the University of North Alabama where he eventually landed on IT as his course of study. While Sunil wasn't planning on moving into the coding, he loved the dynamic environment of IT support. As he tells it, "I've broken A LOT of computers, so I've had to figure out how to fix them.
Sunil's plan all along was to move towards citizenship. As his ten-year green card was coming to an end, he began the process. To become a citizen, not only do you have to pass an extensive background check, you also have to pass an oral exam about the United States. His family played an important role in his success, especially his ever patient wife and his wonderful children. When asked about the best moment during this process, Sunil didn't hesitate in his response. "The swearing in, for sure. You are surrounded by a group of people from different backgrounds, experiences, and walks of life but everyone has one thing in common: We are all Americans today."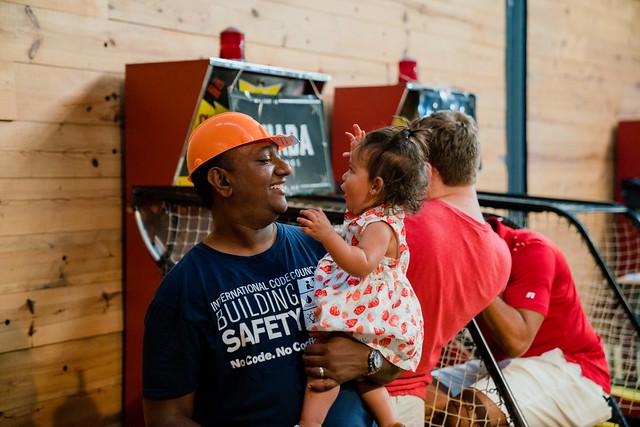 We love celebrating Sunil's achievement with him. He's an integral part of our success and an all around awesome guy. Congratulations to Sunil!
Got an achievement story to share? Post about it on social media with us! We'd love to hear your success story. Visit us on Twitter, Facebook, and LinkedIn, and continue the conversation of achievement with us!