Share Your Digital Badge in Your eMail Signature
Adding your digital badge to your email signature is another great way to showcase your accomplishment.
It is important that you not only include the badge image but also the hyperlink to the information about the badge you have earned. Please follow the detailed directions below.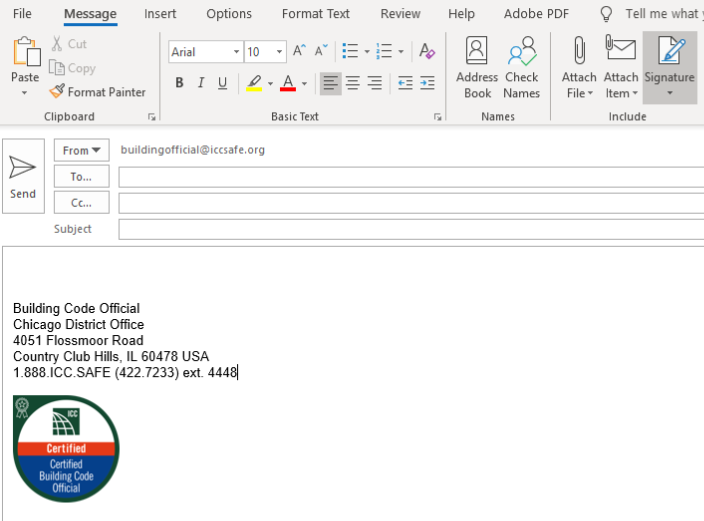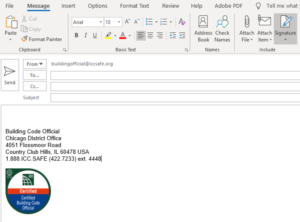 Step 1:
Select your image and hyperlink.
Log into your myICC account and select (click on) the badge you'd like to add to your email signature from your dashboard.
Select the share button at the top the page.
Select the tab with the download icon and use the sliding scale to select the appropriate size for your image download. (We recommend around 150x150 pixels) Click the "Download Image" button.
Select the tab with the link icon and click the "Copy" button to copy the Badge URL to your clipboard. You'll need this to hyperlink your downloaded image.
Step 2:
Select your email platform from the list below and follow those instructions.
Microsoft Outlook
1. Open your outlook email
2. Start a new email and click signature in the top navigation.
3. Either edit an existing signature or add a new one.
4. Click the add image icon (2nd to last icon at right corner of edit signature bar) and choose the badge image you downloaded.
5. Next hyperlink the image by clicking the add link icon (last icon at the right corner of the edit signature bar). Paste the badge url you copied in Step 1.
6. Select Save.
Gmail
1. Open your gmail account and find the settings area and scroll to the signature block
2. Use the picture icon to upload the badge image you downloaded.
3. Highlight the image and click on the link icon.
4. Paste the url you copied from Step 1.
5. Select Save.
MacMail
1. Open the Mail app in Mac OS. Go to the Mail menu and click Preferences.
2. Choose the Signatures tab and then click the [+] plus button to add a new signature or select a signature you've already created.
3. Open your Finder to locate the badge image you want to add to your signature; select the image and then drag and drop it into the signature section.
4. To add the hyperlink to the image, select the image, go to edit, then click add link and enter/paste the URL from Step 1 into the box.
5. Click OK.