Now Available on PRONTO:

Special Inspector General Requirements Module Exam
Published: October 4, 2019
The world is changing rapidly, and we understand that means testing needs to change too. In today's world, convenience is king. We understand that as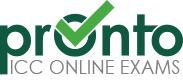 professionals, it can be a challenge to find the time to drive to a test location to take an exam. That's why the International Code Council has been steadily working to make our Proctored Remote Online Testing Option (PRONTO) available for more exams.
PRONTO allows candidates to take exams from the comfort of their own home or office 24/7. The exam comes with the same safeguards and security measures as any other Code Council exam, but the convenience makes it a perfect option for busy professionals working towards passing new exams.
As of October 1st, we're excited to announce that we now offer PRONTO as an option for the Special Inspector General Requirements (GR) Module. For professionals new to the certification journey in Special Inspection, the GR module is one of the required exams necessary to achieve any one of the Code Council's Special Inspector Certifications. With the GR exam now available to take on the PRONTO platform, candidates can easily take this exam in the comfort of their own home or office.
The International Code Council continues to work diligently in prioritizing some of our most popular exams—certifications and contractor exams alike—to be available through PRONTO as well. In addition, we're investing in developing a system to deliver exams with plans sets for easier use so that all Special Inspector exams can also be provided via PRONTO.
As we continue to expand exam offerings, we want you to know that we are committed to finding ways to make the exam experience more convenient and accessible for all our candidates. For more information on PRONTO, check out our webpage dedicated to the service.
Take the Special Inspector
General Requirements Module Today
Search for "General Requirements" on the Exam Catalog and purchase to take your PRONTO exam in the comfort of your home or office anytime, 24/7.