Your Guide to Tiny House Regulations
Download the International Code Council's free guide to learn more about regulations surrounding tiny homes
Tiny houses have become increasingly popular as people seek alternative housing solutions that are more affordable and sustainable. However, as more people begin exploring the possibility of building or buying a tiny home, it has become essential to help clear the confusion surrounding these new types of housing.
If you're a builder, code official, policy maker or future tiny homeowner, this guide can help clarify what you need to know to get certified and stay safe.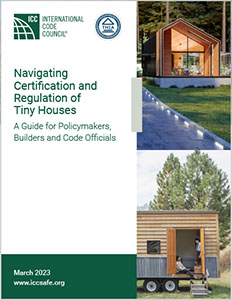 The International Code Council's Navigating Certification and Regulation of Tiny Houses: A Guide for Policymakers, Builders and Code Officials was developed in partnership with the Tiny Home Industry Association (THIA) to outline the existing codes, standards and other criteria that should be followed to create safe, sustainable and resilient tiny houses.
In this guide you'll learn:
How to determine what requirements should apply to a tiny house based on how the tiny house will be used
The differences between the building codes and standards that apply to tiny houses
The importance of tiny house certifications and inspections