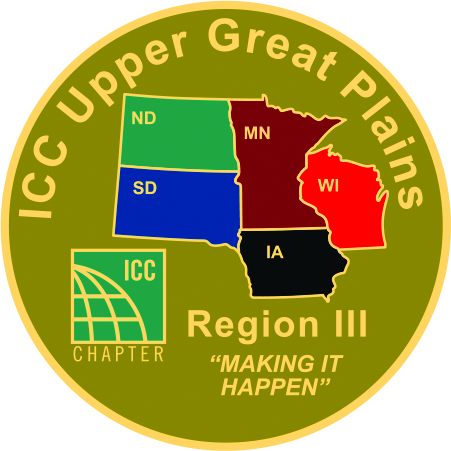 Upper Great Plains Region III Educational Institute
February 7 – 11, 2022
Virtual and In-Person
Minneapolis Marriott Northwest  •  Minneapolis, MN
The Region III Institute is brought to you by the Association of Minnesota Building Officials Chapter of ICC
Don't miss out on the early-bird discount!
The early-bird discount expires January 7, 2022.
See the brochure to learn more.
Presenter Updates
Session 283 PM: Scott Wheeler will replace Rich Lockrem
Session 285 PM: Paul Swett will replace Rich Lockrem
Session Cancellations
Tuesday, Session 212 (De-Escalation)
Monday, Session 251 (Damage/Storm Shelter)
Wednesday, Session 253 (ISPSC)
Thursday, Session 254 (Insulation)
ICC Upper Great Plains Region III Educational Institute Welcomes You!
For the 18th year, AMBO, Region III, and ICC collaborate on this annual mid-winter educational event that is focused on the construction-inspection industry. The week-long institute will be held at the Minneapolis Marriott Northwest in Brooklyn Park, Minnesota, Monday, 7 February through Friday, 11 February. The Marriott offers the convenience of spacious classrooms, well-appointed hotel rooms, and dining options all under one roof. Hotel management and staff are committed to our comfort and safety. Any COVID protocols are strictly adhered to. Shopping and entertainment are just minutes away. If you are flying to the Twin Cities International Airport, the Marriott is less than 30 minutes away. If you are driving to the site, there is ample free parking. Whether staying on-site or commuting daily, we think you will find there are abundant networking opportunities and worthwhile educational offerings at a superb venue.
A Week of Diversified, Engaging Programs
The Institute has 37 class days of construction-industry related topics offered in eight tracks. A few select sessions are offered virtually – these sessions are planned as hybrid sessions and are identified with a V after the session title. Presenters are well-qualified and often well-known individuals from ICC and related areas of expertise. All are welcomed and everyone is invited to attend. The week would be of particular interest to those individuals involved in building code administration, inspections, and related regulatory or design positions: Building Officials, Building Inspectors, Permit Technicians, Fire Inspectors, Mechanical and Plumbing Inspectors, Housing Inspectors, Design Professionals, and other interested parties. The International Code Council and the Minnesota Department of Labor and Industry provide continuing education approvals as appropriate to ICC certifications and Minnesota licenses. Additionally, AIA continuing education credit is provided for sessions that are presented by ICC staff or ICC contract instructors. Check the session descriptions for instructor information.
The Venue
The Minneapolis Marriott Northwest is conveniently located 30 minutes from the Minneapolis-Saint Paul International Airport and near to multiple shopping and dining options. There is free on-site self-parking.
You can enjoy the convenience of modern hotel suites and classrooms under one roof. Classrooms, meeting rooms, and public areas comfortably host the event well within any CDC physical distancing guidelines. Attendees are provided with continental breakfast prior to session starts, refreshments for morning and afternoon breaks, lunch, and unlimited beverages throughout the day.
Location
Minneapolis Marriott Northwest
7025 Northland Drive North
Minneapolis, Minnesota 55428
763.536.8300 – for general information and questions
Guestroom Reservations
All guest rooms are two-room suites. Group-rate reservations are available through January 17, 2022. The AMBO Group Rate is $129 plus applicable taxes. For room reservations go to: https://protect-us.mimecast.com/s/ij14CPN8PRtK059rIznWLx?domain=urldefense.com