Alexandria, Virginia BSM Kick-Off Event
BIANCO (Building Inspectors Association of Nassau County) Building Safety Month Celebration on Monday, May 12th at Hempstead Town Hall
Billboards Promoting Building Safety Month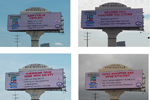 "Building Safety Month Awareness Night", Hosted at Clatsop Community College in Astoria, Oregon; Hosted By Jack Applegate Building Official for the City of Astoria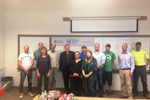 Mr. Jay Elbettar, ICC Board member, Gives Building Safety Month Presentation at ICC Los Angeles Basin Chapter
City of Emporia, VA Building Safety Month Materials at Counter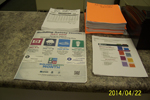 Faith Christian School in Boyd County, Kentucky Has BSM Visit
Good Wall / Bad Wall Display, in the Lobby of City Hall at SeaTac, WA; Trace Justice, President of WABO (Left) and Gary Schenk (Right), Building Services Manager, City of SeaTac, WABO's Past President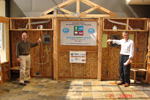 Photos of the Hendersonville, TN proclamation signing. Mayor Scott Foster and Steve Mills, Director, Department of Building Codes.
Honolulu Department of Planning and Permitting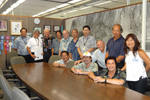 ICC Members in Utah Join Governor Gary Herbert in a Public Declaration Signing Ceremony, Declaring May 2014 as Building Safety Month in Utah
Oregon Building Officials Association Training Event in Salem, Oregon, Where Attendees Paused to Celebrate the BSM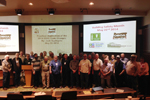 Proclamation Signing, Board of County Commissioners, Palm Beach County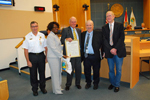 Primrose Residents Tour New Decatur, IL Police Department Building During National Safety Month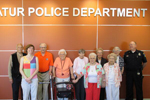 The Town of Perinton, New York, signed a proclamation at the April 23, 2014 Town Board meeting proclaiming "May 2014 as Building Safety Month". Pictured from left to right is Town Clerk Jen West, Building Inspector Jim Bailey, Town Supervisor Mike G. Barker and Director of Code Enforcement and Development Mike Doser.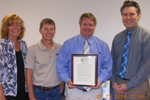 Whittier, California Proclamation Signing with Lee Clifton, ICC Government Relations, Carlos Yado, Building Services Manager/Chief Building Official and Kathy Warner, Mayor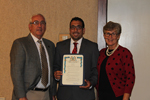 Videos
Silent Heroes - Building Safety Month
Massachusetts Federation of Building Officials video