Demands for Accessible Buildings Are Growing:
Become an ICC Certified Accessibility Inspector/Plans Examiner now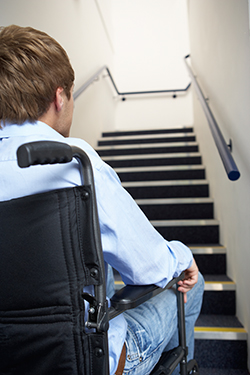 The 2010 U.S. Census revealed that more than 40 million Americans are over the age of 65. As the Baby Boomer generation continues to age, this number will only increase. Are you prepared for an increased focus on accessible buildings and communities?
Set your career up for success by demonstrating your knowledge of the ICC A 117.1-2009 Accessible and Usable Buildings and Facilities standard requirements and how to apply them. ICC certification as an Accessibility Inspector/Plans Examiner demonstrates your knowledge of and commitment to accessible buildings.
Testing for the Accessibility Inspector/Plans Examiner certification is available via computer or paper-and-pencil.
Exams based on the 2009 and 2012 code years will be available via computer-based testing July 1, 2013. Most 2009 computer-based exams will be available through at least December 2013. Register soon to ensure your seat in the remaining 2009 computer-based exams.
Resources
Preparing for an ICC certification shouldn't be daunting. If you need help, here are a few resources that can help you prepare for your exam.
Upcoming ICC Accessibility Seminars
Montgomery, AL | September 19, 2013
St. Paul, MN | November 7, 2013
Materials