Meet Tana Bryant, Model Code Enforcement Educator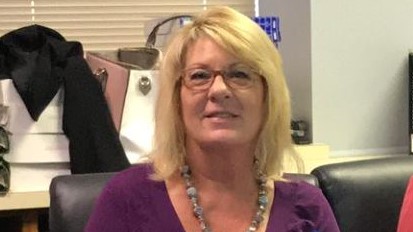 Meet Tana Bryant, the very model of #LovetoLearn through ICC. As Education Director of the American Association of Code Enforcement (AACE) and Senior Code Enforcement Officer for the City of Anniston, AL, Tana develops and leads training classes for the AACE annual conference and for regional/state associations throughout the year.  To cap her hat, she also serves as the AACE liaison to EduCode, and sits on the Zoning/Property Maintenance and Housing Exam Development Committee.
On day seven of our February Love to Learn campaign, we asked Tana six questions about her observations as ICC/AACE code enforcement educator.
AC:  You've helped prepare hundreds of students for ICC code enforcement exams for nine years.  Why did you get into this business?
TB:  Education is so important to me and I wanted to let people know that taking an exam doesn't have to be a scary experience.  Being prepared is the key.
AC: Can you provide a few essential study tips for students who are preparing for a certification exam?
TB: Know where items are in the books.  Take practice exams if available.  Study a chapter or two for an hour starting at least two weeks before an exam.  Use flashcards.  And get plenty of rest!
AC: What might be some things that students don't consider when studying?
TB: Just because it is open book, you still need to familiarize yourself with where everything is.  You will kill your timing on the exam if you are thumbing through the chapters.
(Tip from the AC team:  You may want to become very familiar with the content outline of the exam provided in the Exam Catalog as this is your "blueprint" of the exam content.)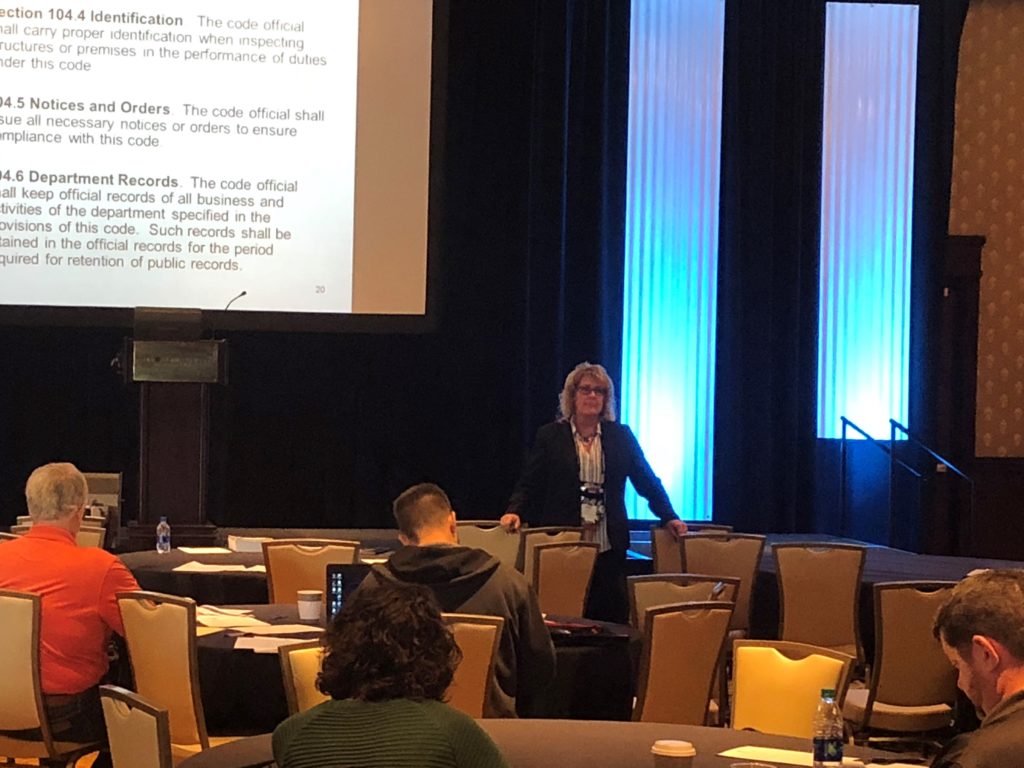 Tana in her educator role, teaching at the Annual AACE conference, November 2018, in Broomfield, CO
AC: What practices have you found that fosters success on an exam?
TB: Knowing how to read a chart. Being able to locate information quickly because you know what each chapter covers. Study, study, study! Not everyone is great at taking exams. Sometimes it helps if you read the information out loud to yourself or a friend. Just hearing the information goes a long way in helping you remember what you are reading.
AC: Failing doesn't mean that one's a failure. Any suggestions on prepping to retake an exam?
TB: Look on the diagnostic graph provided on your score report and see where you scored the lowest. Start refreshing yourself with the information provided in the book that covers the topic. The next exam will not be identical to the one you just took so still review the areas where you performed strongly.
AC:  When and where can students next take your classes, or otherwise receive training?
TB:  There are many online courses available as well as webinars through ICC. I teach at the annual AACE conference each year. Take advantage of any training that is offered in your area. I also work with EduCode on code enforcement classes at their annual conference. Request that your local chapter offer classes that would be relevant to an exam.
Note:  EduCode will be held March 11 – 15, 2019, in Las Vegas, NV.  For more information about Educode, click here.