Did you know that automatic sprinklers are required in townhouses in 2009, and will be required in 1- and 2-family dwellings in 2011? Are you aware of the new regional R value requirements or storm shelter standards? Whether you're a city planner, safety official or builder, there are hundreds of code changes you must know.
The 2009 I-Codes® editions compile all the info you need and incorporate the latest technologies and requirements. Plus, the 2009 editions are easier to use than ever. Order today and make a World of Difference in your community.
Choose your 2009 I-Codes®

Why do you need the
2009 I-Codes®?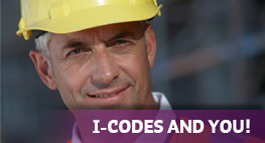 From hydrants to high rises, code changes will affect every aspect of building construction. Don't get caught off-guard – use the 2009 I-Codes® and improve the safety, performance and energy efficiency of all your building projects. Read some of the key changes in more detail.
Considering an upgrade to the 2009 IBC® and IRC® editions?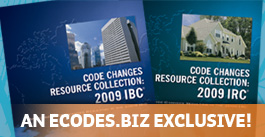 If you're planning to buy a 2009 IBC® or IRC® edition, simplify your life by purchasing a Code Changes Resource Collection as well. These publications put all successful code changes made from the 2006 to the 2009 editions right at your fingertips – saving you time, energy and money.
Take a peek inside the 2009 IBC® or 2009 IRC® Code Changes Resource Collection.
The popular Significant Changes
Series is back!
Your complete analysis of the key changes made between the 2006 and 2009 I-Codes!  Read more about Significant Changes to the 2009 IBC, IRC, IFC and IPC/IMC/IFGC publications and training opportunities.  Make an easy transition to the 2009 I-Codes!
Your learning is just starting with the purchase of your new I-Codes®
Take advantage of FREE learning opportunities through ICC, including:
| | |
| --- | --- |
| | 2009 I-Codes® Webinars, which highlight the significant changes from the 2006 to the 2009 editions |
|   |   |
| | Valuable bonus content, including technical articles, excerpts of code references and more! Register your new code books through ICC's CodesPlus to access your free benefits. |
Be More Energy Efficient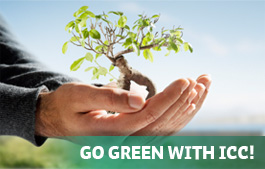 The 2009 IECC® is projected to increase your energy savings by 15% over the 2006 edition. With the economic stimulus package potentially including $3.4 billion in energy assistance grants for states, interest in energy efficiency is higher than ever. Order your 2009 IECC® copy today and be a leader in your community.