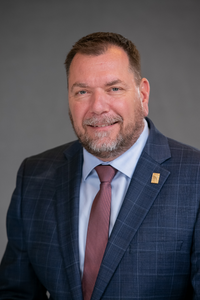 ---
President
Michael P. Wich, CBO
Chief Building Safety & Development Officer
South Central Planning and Development Commission, Houma, Louisiana
Send Email
Michael Wich has been working in building safety for South Central Planning and Development Commission (SCPDC) since 2007.  He has served as Chief Building Safety & Development Officer since January of 2022.  Prior to his current role, Wich served as Chief Building Official since March of 2007.  Before entering the field of Building Safety, Wich owned a residential construction company.
As a commitment to building safety, Wich believes in active participation at the local, state, and national level.  Wich has served as Associate Vice President of the local home builders association, President of the Building Officials Association of Louisiana, and Board member of the Louisiana Home Builders Association. With ICC, Wich has served on the Building Membership Council Governing Committee, 2015 Nominating Committee, Director At- Large for 4 years, Secretary-Treasurer, Vice President, and now President.
Wich currently holds several certifications from the Code Council, including Certified Building Official, Commercial and Residential Building Inspector, Commercial and Residential Plumbing Inspector, Commercial and Residential Electrical Inspector, Residential Mechanical Inspector, Residential Combination Inspector, Building Inspector, Plumbing Inspector, and Electrical Inspector.  He holds a Bachelor of Science Degree in Mechanical Engineering from Louisiana State University.
When Wich is not working to increase building safety in Louisiana, he enjoys spending time with his two sons and grandson, watching football and college baseball, camping, and traveling.  He enjoys mentoring others interested in the building safety profession and educating the building community on the importance and reasoning for building codes.