The ICC Expo provides a platform for exhibitors to demonstrate and educate building safety and design professionals about the latest innovative technologies that are helping to build a safer world.
This event brings exhibitors face-to-face with professionals from the built environment including tradesmen, architects, engineers, and plumbing, mechanical, fuel gas, building and fire safety professionals from around the world. PLUS, pre-show promotions reach the Code Council's more than 60,000 members and 100,000 customers that turn to ICC for their building safety needs.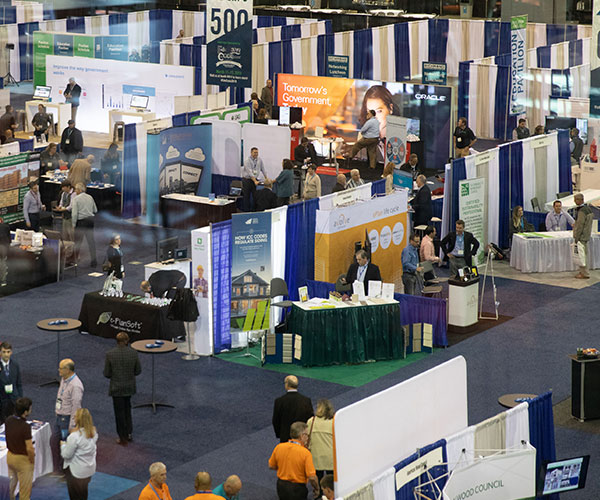 Position your brand and your company as an industry leader in building safety and design!
Why Attend
Meet face-to-face with building safety and design professionals from across the country, around the world and locally
Demonstrate your product and show how it stands out from the competition
Educate attendees about your products and services and why they are important to their business or next building project
Establish your credibility as an expert by networking with attendees and helping them solve real world challenges
Benefits To Exhibiting
Two (2) complimentary exhibitor badges for every 100 square feet of exhibit space*
Complimentary listing on the Expo website (Listing includes company name, booth number, web address, and 100-word company description)
Complimentary listing in the Mobile App (Listing includes company name, booth number, phone number, web address, company logo, and 100-word company description)
Complimentary listing on signage located outside the main expo entrance (Listing includes company name and booth number)
Use of the Expo logo and marketing materials to help with your exhibit promotions.
Each 10'x10' booth space includes 8' back drape, 3' side drape, company identification sign, aisle carpeting and exhibit hall security.
Exhibitors are responsible for the following services, which are not included in the booth space fee:
Booth furnishings
Booth carpet or floor covering (Required)
Inbound and outbound freight handling cost
Electrical, Internet or other utility services
Audiovisual equipment
Booth installation and dismantling
Booth cleaning
Exhibit Rates
$2,000 – Standard Fee
$1,500 – Early Bird Fee (Deadline is

July 1, 2022

)
(Fees listed above are per 10' x 10' or 100 sq. ft. booth space)
Terms
Payment in full is due with contract.
Space Assignment
Every effort will be made to assign the exhibitor to one of their chosen spaces; however, Show Management reserves the right to make final space assignments or change space assignments after acceptance of the registrations, should it be necessary in the best interest of the exhibition.
Sponsorship
For information on becoming a sponsor for the Code Council's Conference and Expo, visit the 2022 Visibility Prospectus.
Questions?
Contact Jackie Claus with any questions you have about exhibiting at the ICC Expo.
EXHIBIT SCHEDULE
Sunday, September 11
Monday, September 12
EXHIBITOR MOVE-IN
Saturday, September 10
8 am – 5 pm
Sunday, September 11
9 am – Noon
EXHIBITOR MOVE-OUT
Monday, September 12
7 pm – 10 pm
Tuesday, September 13
8 am – Noon