The International Code Council offers the PMG codes and support documents in a range of formats including traditional softcover books, PDF downloads, and eBooks, as well as electronic versions available on the web that can be accessed using your Android or Apple mobile device.
To see all offerings available from the ICC Store for a particular PMG code, click on the code cover below.
PMG Codes are also available with an ICC Digital Codes Premium subscription.
Go to codes.iccsafe.org to learn how to search codes faster, share notes and collaborate more efficiently with an ICC Digital Codes Premium subscription.
The Code Council also produces a wide range of support products and materials to help code users and code officials alike improve their knowledge and understanding of the code. Support publications include: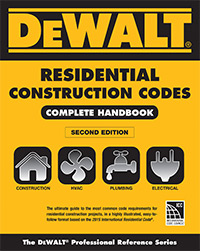 DEWALT Code References
Compact size and easy-to-use quick reference format puts "must-know" information at readers' fingertips readily.