ICC Certifications are the market leader and are highly regarded in the industry. According to a recent survey of more than 2,400 members and certificants, the value of ICC Certifications are greater than the cost and many certified employees are paid more than their non-certified counterparts. Demonstrate commitment to your career by pursuing an ICC Certification.
Note: The ICC Certification Program is undergoing changes that affect recertifications and combination designations. Learn more.
NOTE TO ALL CANDIDATES: It is your responsibility to read and understand the applicable Exam Information Bulletin for your exam in its entirety prior to registering for an exam. The answers to most questions asked by candidates can be found in the bulletin, including all exam-related policies, approved references, content outlines, and more.
New Reference Rule has Big Implications
After careful consideration, the Certification Committee has created a new rule for exam candidates in the National Certification and National Contractor/Trades Programs: starting May 1, exam candidates may take any copyrighted, bound reference into a test site (excludes Fire Inspector I, Fire Inspector II exams). The new rule is expected to shorten the check-in time prior to exams and will allow test-takers to use the edition they're most familiar with.
Test questions will continue to come only from those references listed in the bulletins as approved for specific exams, and challenges to exam questions may only relate to those approved references. For more information, please email us at certexam@iccsafe.org or call us at 1-888-422-7233 ext. 5524.
Exam Information & Registration
National Certifications
According to a recent survey, code professionals typically follow a similar progression in ICC Certifications. Here's how the many certificants progress, how do you measure up?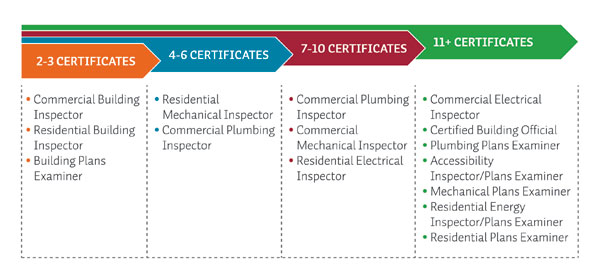 National Certification exams provide the means by which individuals can achieve certification in order to demonstrate their knowledge of various construction regulatory codes, standards, and practices.
Looking for information on California, Florida, or Minnesota certification exams?
Click here for details.
For information on the AACE/ICC program click here.
Contractor/Trades Testing
State-specific Certifications
UST/AST Testing
Contractor/Trades Testing
ICC develops and administers customized construction trade licensing exams for hundreds of state and municipal jurisdictions.
Pass Lists
State-specific Certifications