The Building Official Membership Council is open to all ICC Members and will serve the needs of Building Officials and others in code enforcement. You'll have an opportunity to discuss issues that you face as a community, and how ICC might best serve you.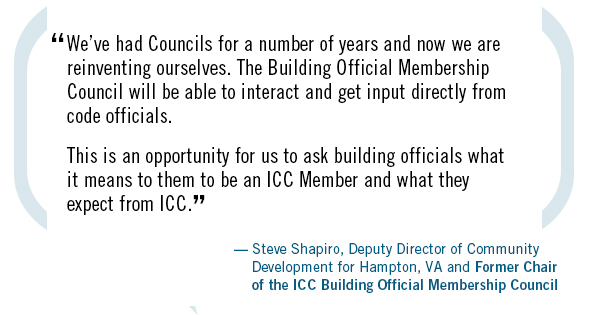 If you're looking to get more involved in the building official community, network with peers, enhance your profession and career, and influence the direction of ICC to your benefit, enroll in the Building Official Membership Council today. Simply fill out the enrollment form, and ICC will be in touch with more details. The Governing Committee serves to actively engage Members in discussions about priorities and opportunities for the direction of the Council.
Governing Committee of the ICC Building Official Membership Council
Steve Shapiro, Chair, City of Hampton, VA
Becky Baker, Vice Chair, Jefferson County, CO
Amber Armstrong, Plans Examiner II, City of Norman, OK
Jimmie Deer, City of Fort Smith, AR
William Duck, Riverdale Community Development, GA
Ronald Hampton, Commonwealth of Kentucky
Scott McDonald, City of Amarillo, TX
Michael Metcalf, Plaquemines Parish, LA
Steve Mills, City of Hendersonville, TN
Pat Naticchione, Township of Egg Harbor, NJ
Steve Nordhues, City of Norfolk, NE
Michael Nugent, City of Rock Hill, SC
Neville Pereira, City of Pasadena, CA
Tom Peterson, State of Utah
Chris Young, City of Arlington, WA
Staff Liaison
Vaughn Wicker, Vice President, State and Local Government Relations, International Code Council
Board Liaison
Jerry Mallory, ICC Board of Directors
Questions on the Council? Contact Karla Higgs.